Netflix remembers your previous watching history, so it's convenient for people to keep watching their favorite movies. However, if you want to clear your Netflix history, there is a simple way to do that.
How to delete Netflix history
Step 1: Sign in to your account and choose a profile that you want to hide the history
Step 2: Click on the profile symbol on the top right corner of the screen. In the drop-down menu, choose "account"
Step 3: Go to My Profile, choose viewing activity
Step 4: You will see the list of continue watching. Click on the "Hide" icon to hide the film. 
If you want to hide all, click on the "hide all" button at the bottom.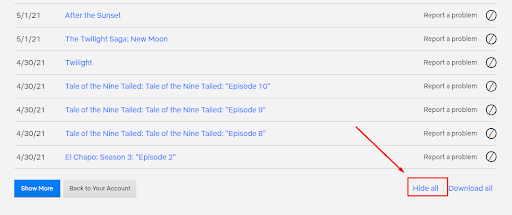 Note: Normally, it takes time for Netflix to delete view history, so just wait for 24 hours until Netflix's done that.