Not everyone can afford to use paid photo editing software, so free ones should be a straightforward way to edit your pictures. Free software will be the best choice if you start learning photo editing or just need simple tasks.
This article will recommend you the most popular free photo-editing software worth trying. 
1. GIMP
GIMP is a GNU image manipulation program. This is a popular open-source image editor that is often referred to as "Free Photoshop." This program helps users with features such as image authoring, photo enhancement, and digital retouching. It works on most OS and supports many languages. 
This program extends the plug-ins and advanced control interface to allow the most straightforward modifications and the most complex procedures.
The software supports various input devices; you can install add-ons to extend the functionality. It also supports multiple image file formats such as TIFF, PSD, PNG, JPEG, and GIF. GIMP works on Windows, Linux, and Mac.
Download: GIMP
2. Paint.NET
Paint.NET is another free editing software and only works on Windows operating systems. The highlight feature of this software is you can undo your change unlimitedly. 
Besides, Paint.NET is a great choice if you want to print your photos on matte or waterproof paper.
Paint.NET also provides plug-ins to support formatting and add more new effects. This image editing software supports several image file formats such as BMP, JPEG, TGA, and DDS.
Download: Paint.NET
3. Fotor
Fotor is a professional free photo-editing software capable of processing multiple images at once with fast speed. In addition, Fotor has a sleek, eye-catching interface, allowing users to unleash their creativity with their photos. 
In particular, Fotor provides more than 80 templates, allowing users to combine up to 9 photos simultaneously or use the Freestyle feature to move pictures. Besides, the application also offers 22 wallpapers for you to choose from.
You can easily use the tilt shifter and retouch colors from classic to vibrant through Fotor's smart menu system. 
Download: Fotor
4. Inkscape
Inkscape works with Windows, Mac, and Linux operating systems. It's a vector graphics editor, like Illustrator, but still packed with useful features.
Users may find its interface a bit overwhelming because of the many tools. Still, all of its tools are arranged along both sides to easily use when you get used to it. You can create many shapes with Inkscape, such as circles, arcs, 3D boxes, ellipses, stars, spirals and polygons, and more. You can also draw straight lines and freehand shapes.
This photo editing software supports many file types. Inkscape also supports extensions to increase its functionality. Windows users can download a portable version for editing directly from a flash drive.
Download: Inkscape
5. Pixlr Express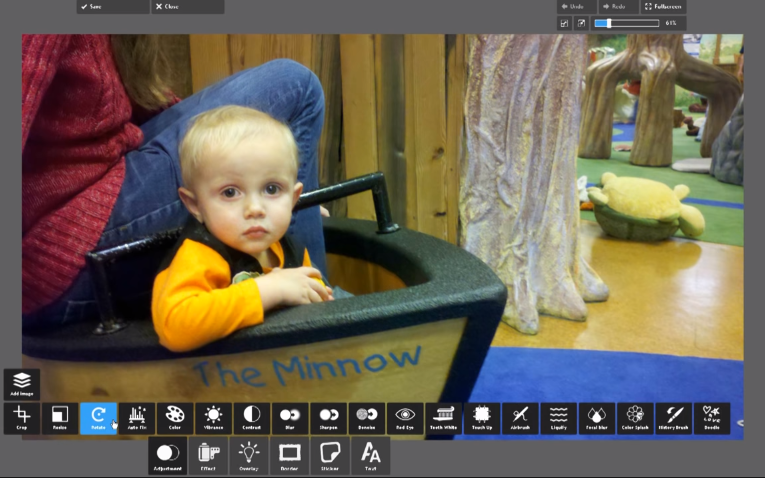 Pixlr Express owns more than 20 free image editing tools with diverse colors. Accompanying that is the Photoshop Online tool on the Pixlr platform that helps you design various images without installing software. 
Pixlr Express is full of the most advanced and modern features that allow you to edit photos online, quickly, and conveniently.
Download: Pixlr Express
6. Canva
Canva is a graphic design tool website founded in 2012. Canva uses a drag-and-drop format and provides access to over a million photos, graphics, and fonts. Non-designers as well as professionals use it. The tool can be used for both web graphics and print designs.
Canva is a free online graphic design software on the Internet with a friendly interface, rich resources. It is especially easy to use for both professionals and beginners.
Even if you have no background knowledge, you can still create beautiful, modern, and unique works thanks to Canva's ready-made templates.
In addition to the templates and images that Canva offers for free, you'll find a variety of paid options, such as copyrighted photos.
Visit site: Canva
7. PhotoScape
PhotoScape is a powerful photo editing tool with smart filters that even beginners can quickly master. Take a look at PhotoScape's main menu, and you'll find lots of photo editing features: raw converter, splitter, combine, and so on.
PhotoScape's interface is one of the most "mysterious" of all the free image editors, with tools grouped into individual profiles. It is almost like Photoshop but has fewer features. PhotoScape is an excellent choice for beginners, but it still has the potential to yield great results. 
Its filters are potent, making PhotoScape a perfect choice if you need to add a subtle artistic effect.
Download: PhotoScape
8. inPixio Photo Editor
This free photo editing software from inPixio has a simple design, but that doesn't mean it doesn't have useful features. It's easy to use and navigate even when you're a newbie; you can do everything from adding frames, designing to cropping, changing brightness, and more.
With one-click framing, previews, and easy-to-access editing tools, you can finish editing quickly and even share photos directly on Facebook or Flickr from the Share menu.
If you want to apply the same edit to other photos, you can easily do it with this image editing software. You can edit many types of image files in this software, such as JPG, PNG, RIFF, JXR, and WDP.
Download: inPixio Photo Editor
9. PiZap
PiZap is a free online photo editor available in both HTML5 and Flash editions and compatible with most devices, from Windows to macOS or Linux. You can work with pictures from your hard drive, Facebook, Google Search, or other photo storage. 
PiZap's interface equips with sliders to adjust features quickly. When you're done, you can share photos to media socials, save them to hard drives or grab embedded links. 
While editing your photos, you should pay attention to the copyright if you use pictures from Google Search. You can download pictures at higher resolution and use more resources if you use the paid version. However, it's not a problem if you just want to share your photos on social networking sites. 
Visit site: PiZap
10. EasyComic
EasyComic is not a high-end photo editing software like some other free software, but if you only need simple editing, it is very suitable because you will not be overwhelmed by features you do not need.
It has some useful features and effects like bubbles, nature photos, cartoon effects, etc., so you can easily drag and drop them into your photos.
In addition, this photo editing software also has line drawing tools, rotation, and resizing functions to create text and shapes. However, it does not have a brush or pen tool like other software.
Download: EasyComic